Name: Kuroi Raikumo
Nickname/Alias/Criminal name: Black Cloud of Kumogakure
Ninja Rank: Higure
Village: Kumogakure
Clan: Raikumo
Age: 23
Gender: Male
Height: 6'1"
Weight: 186 lbs
Elemental Affinity: Lightning
Race: Human
Looks: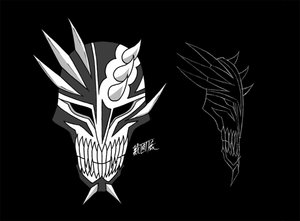 (Mask)
Personality: Cold calculating, humorless
Skill: Ninjutsu, Kekkei Genkai
Kekkei Genkai: Ability to summon storm clouds at will, using them to greatly augment his jutsu.
Jutsu:
Any lightning based jutsu.
Items/Weapons: Katana, shuriken, kunai
History: Kuroi was the second son of the Raikage. As such he received much less attention from his father than his older brother. Despite advancing at a faster rate than his brother, Kuroi was often shunned and excluded. Even his most fervent efforts failed to give Kuroi the attention he so strongly vyed for. The day of his Jounin exams, his 11th birthday, Kuroi snapped and killed all of the other participants as well as the proctor for the exams. In his mind he was displaying how far he had advanced past his classmates to his father. The onlookers only saw a needless bloody display of animalistic fury. After the special-ops were deployed, Kuroi killed 3 and took off out of the village, never to be seen again.
RP Sample: Not gonna happen.