Name: Samerashii Uwabe
Nickname/Alias/Criminal name: None
Ninja Rank: Jounin
Village: Kirigakure
Clan: Hoshigake
Age: 22
Gender: Male
Height: 6'5"
Weight: 211 lbs.
Elemental Affinity: Water
Race: Shark-like
Looks: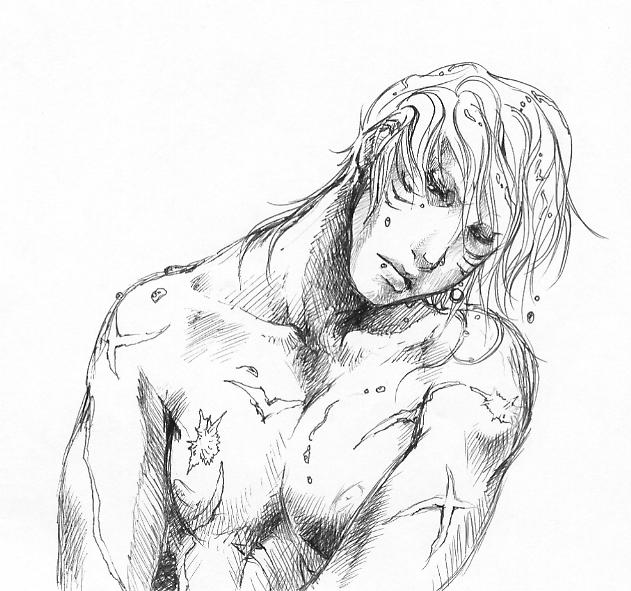 Normal Form
Beast Transformation
Personality: Quiet and very to himself. Samerashii is ashamed of who he is descended from.
Skill: Ninjutsu and Taijutsu
Kekkei Genkai: Uncommonly large chakra reserves
Jutsu:
All jutsu Kisame used
Jutsu: Ninjutsu
Name: Sand Explosion
Rank: A
Element: Earth
Description: Unleashes a beaches worth of sand. It crashes out at bone crushing pressures. When combined with Water Explosion he canmake a good amount of quicksand.
Jutsu: Ninjutsu
Name: Suiton, Beast Transformation
Rank: S
Element: Water
Description: After performing the proper handsigns, Samerashii takes a more shark-like appearance. His skin becomes hard a rock and very abrasive, to the point that he can use his forearms as weapons. His strength and speed are greatly increased. Samerashii's also able to remove sets of teeth and use the as weapons. When the jutsu wears off his scales shoot off like bullets, piercing most objects.
Items/Weapons: Kunai and shuriken
History: Samerashii is descended from the Akatsuki member, Kisame Hoshigake. As such he bears a resemblance to his father, albeit a bit more shark-like, as well as his huge chakra reserves. Samerashii rose to the rank of Jounin at the age of 14. As he completed each mission, Samerashii became more and more fed up with the missions themselves. Shorlty after he turned 20, Samerashii completely stopped taking missions and devoted himself completely to his already harsh training regiment, alone in chakra control.
RP Sample: Nah.